There's a feeling of anticipation in the air as we step ever-closer to the end of lockdown and our glorious town begins to welcome guests once again. But you may be wondering what you can expect from a visit to Southwold this spring?
Here we hope to suppress any reservations or anxieties you may have about booking a trip this April or May.
The Government Guidance
As laid out in the government guidelines, from April 12th we will be able to welcome self-catering guests as long as their party is made up of guests from ONE household or household bubble. Non-essential retail will open and pubs and restaurants will begin to open for outdoor service, without curfew and with no requirement for people to order a substantial meal.
From no earlier than 17th May we will be able to welcome groups of two households or household bubbles OR groups of six (more guidance will follow on this.) Pubs and restaurants can open for indoor service and most restrictions outdoors will be lifted, subject to a limit of 30 people.
Safety First
Southwold Town Council and the business community are keen to ensure the safety of both residents and visitors to the town and have worked together over the last few months to that effect. The 'Keep Southwold Safe' campaign includes a one-way pavement system on the High Street and promotes the adherence to the government guidelines around social distancing, mask wearing and hand hygiene.
The Southwold Experience
If you're worried that your holiday experience will be compromised by the gradual opening of local services, don't be. Of course, restaurants may not be fully open until May 17th, but with a bit of planning you'll be able to enjoy the local fayre by eating al fresco or ordering takeaway delivery to your holiday cottage.
The Red Lion, situated on South Green will be taking courtyard bookings for dining from 12th April to 17th May and their front tables are available on a first come first serviced basis. After 17th May they will be taking reservations for indoor dining, but on a reduced capacity, so early booking is recommended.
The Sail Loft on Ferry Road is very popular and has been offering a wonderful takeaway menu including curry of the day, burgers, fish and chips and even traditional roasts.
Café 51 on the high street has master the art of the takeaway with dishes such as 'seven hour lamb shank with rosemary jus', 'shallot and beetroot tart tatin' and 'fillet of sea trout with salsa verde' appearing on their weekly menu. £19 for two courses, £23 for three courses, all delivered to your door ready to reheat.
Coasters Restaurant will be welcoming guests to a very novel outdoor dining experience from 17th May. Their courtyard has been converted to incorporate three fully heated, beach-hut inspired dining pods. Each seats up to 6 and dogs are welcome too. Booking strongly advised.
Black Olive Deli is superb for lighter bites. Their fresh salads are out of this world as is their selection of pies, quiches, sausage rolls and other savoury delights. Ideal for picnics as well as meals in your holiday home.
Sutherland House offers a fine dining experience like no other in Southwold, and a meal in their garden is an experience to remember. Open for outdoor dining from 12th April, you'll need to book well in advance here.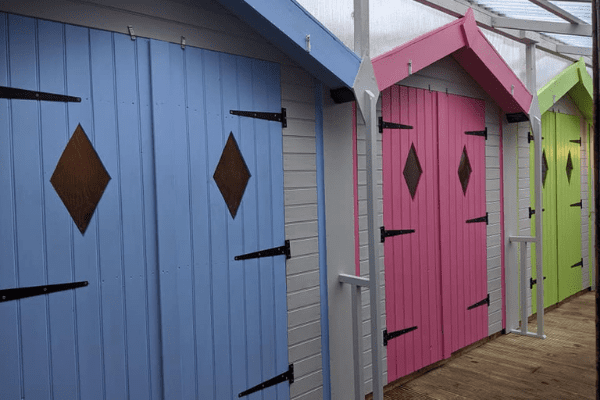 The charming new beach hut dining experience at Coasters Restaurant.  Image credit: Coasters
Delicious savoury treats from Black Olive Deli.  Image credit: Black Olive
Luxury outdoor dining at Sutherland House, Southwold.  Image credit: Sutherland House
Where can I stay?
Here at Durrants holiday cottages we have over 70 holiday cottages all unique in style and character. To browse our portfolio click here, but here's a little selection available for this April and May.